Just wanted to make you all aware of this great deal at Family Christian Bookstores on Red Letters by Tom Davis. :)
I've discovered a new way to live. Every morning when I get out of bed, I look for Jesus. No, not because I've misplaced Him. And I'm not talking about a feeling I get during prayer, or revelation that comes to me while reading Scripture. I'm talking about finding Jesus in the eyes of real people. In the eyes of the poor, the handicapped, the oppressed, the orphan, the homeless, the AIDS victim—the abandoned and the forgotten.
(Tom Davis,
Red Letters
, p. 15)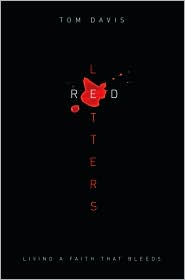 From Tom Davis' blog:
A Great Deal on Red Letters
I'm excited to tell you the Family Christian Stores has selected Red Letters: Living a Faith that Bleeds as their Member only title for the month of February. You can pick this book up for only $5 for a limited time at the front counter so buy a ton! Proceeds from the book help to benefit orphans through The James Fund.